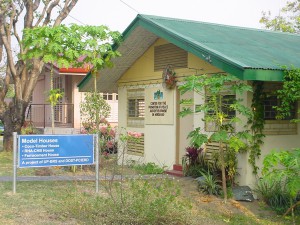 The Building Research Service has built model house showcasing various technologies. These are located at the University of the Philippines Dilman Campus. These were a joint project of the U.P. Building Research Service and the PCIERD-DOST.







---
RHA Concrete Hollow Blocks (CHB) Model House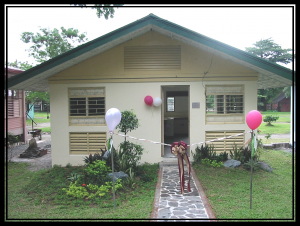 Built in 1989, rice hull ash was used as an additive to cement and lime for the production of non-load bearing hollow masonry units. Usually ignored as commodity or con-sidered a waste by-product of rice mills, rice hull produces siliceous ash upon incineration that can be used as additive to cement. With a floor area of 36 sq.m., the 2-bedroom house was built mostly from concrete including the walls, floors, beams and columns. The trusses and roof framing also uses coco-lumber while the ceiling was made from sawali.
Materials for the RHA-CHB Model House
Structural Frame – treated coco-lumberfor all structural and framing members: trusses, purlins, wood nailers, ceiling joists, and wood blocks; Rough Yakal was used for wood plates. All structural frames were treated with Cuprinol.
Walls – Exterior wall: 6" the thick non-load-bearing hollow blocks (300 psi) with 60% RHA and 40% lime design mix; Interior wall: 4" thick non-load bearing hollow blocks (300 psi) with 70% RHA and 30% lime mix; Bathroom Walls – 4 ¼" x 4 ¼" white glazed tiles from floor to 1.80 m height at shower stall and from floor to 0.30 m height for therest of the bathroom walls.
Ceiling – made of Sawali (balat), the interior surface was brushed with clear solignum while the exteriorsurface was sprayed with enamel glass finish.
Roofing – made of Coloroof longspan corrugated G.I. sheets. Flushing and ridge rolls were made of Ga 26 G.I.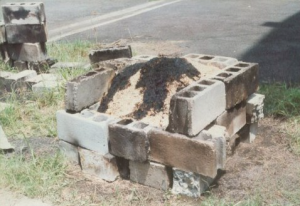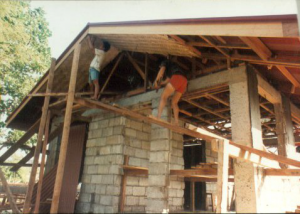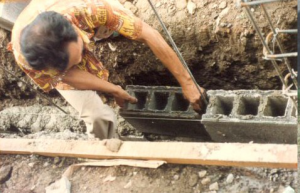 ---
Coco– Truss Frame System Model House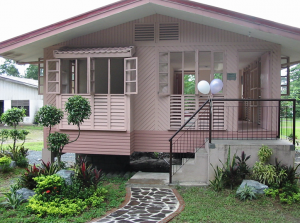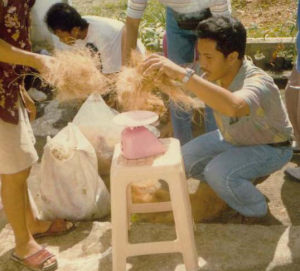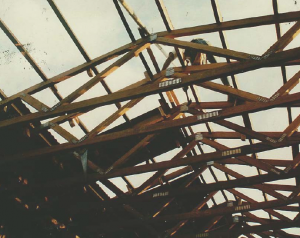 As part of the projects culminating activity, a demonstration house was built using the Cocowood Truss Frame System as skeletal structure. Coconut timber was used in the major structural components such as truss-frame members, floor framing, wall framing, roof framing and ceiling joist of the house as well as the purlins, jambs, wood blocks and spacers. Built in 1989, the 2- bedroom house has a floor area of 36 sq.m. A floor plan and some highlights of the construction phase are shown.
Materials for the Coco-Timber House
Truss Frame – medium to hard grade coco-lumber without defects or imperfections were cut into 50 mm x 100 mm for top and bottom chords and wall studs and into 50 mm x 75 mm for web members; kiln dried and treated with preservatives prior to assembly using Gang-Nail Truss Plates (zinc-coated, pre-cut to designated sizes at all joints) GN-18, GN-14 or a combination of both.
Lumber  – coco-lumber was brushed with Cuprinol as treatment for all structural and framing members (i.e. truss frames, purlins, wood nailers and blocks, floor and ceiling joists, bridging, door jambs, wall studs and header). Kiln dried Tanguile was used for stone-cut sliding wood board, wood louvers (vents), wood jalousie, tongue and groove flooring and fascia boards.
Floor Finishes –  three types of floor finishes were used namely:
– Tongue and groove flooring, 25 mm x 100 mm x 250 mm (1" x 4" x 10") resting on frame's floor truss.
– Bamboo slats with thickness of 150 mm (6") resting on frame's floor truss.
– Kent vinyl tiles sized 1.6 mm x 305 mm x 305 mm (1/16" x 12" x 12") on 1/2" x 4' x 8" marine plywood resting on frame's floor truss.
---
Ferrocement Model House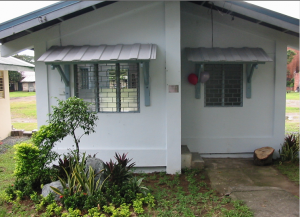 This house was built in 1993. The 36-sq.m ferrocement model house was built using ferrocement technology. Ferrocement is a type of thin walled reinforced concrete composed of hydraulic cement mortar reinforced by closely spaced layers of con-tinuous and relatively small diameter mesh. Wire meshes consist of thin wires, either woven or welded into a mesh. Reinforcing bars and pre-stressing wire of strands can be used in combination with the wire meshes in relatively thick, ribbed or T- shaped elements. Ferrocement modular units in the form of wall components were used to construct the house.
Materials for the Ferrocement house
Ferrocement materials consisted of mortar mix, reinforcing wire mesh, steel reinforcement and skeletal steel. The hydraulic cement mortar mix is com-posed of Portland cement, water and aggregates.
The recommended mix proportions were 1.5 to 2.5 sand-cement ratio by weight and 0.35 to 0.5 water-cement ratio by weight. Wire diameter ranged from 0.5mm to 1.5 mm and wire mesh opening size ranged from 6mm to 25 mm.
---
Fiber Concrete Roof (FCR) Tiles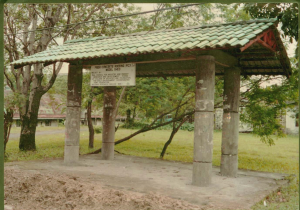 Fiber Concrete Roof (FCR) tiles were developed as alternative roofing material for low-cost housing. FCR tiles were used as roofing component for the construction of the waiting shed.
Materials for the FCR shed
The FCR elements are made of mortar consisting of a mixture of sand, cement, water and natural fibers. With Portland cement as binder and sand grade passing the no. 8 sieve, coco coir fibers combed and cut to length of 20 to 30 mm were used in the roof tiles. The aver-age dimension of the tiles were: Length = 500 mm Width= 250 mm; and Thickness = 8mm or 10mm. Weighing approximately 12.5 kg. ,roof cov-erage requires 12.5 tiles per square meter.